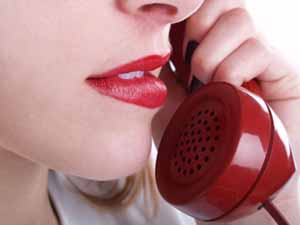 In these crazy times of rampant social diseases, it is very frustrating, I know, to repress your sexual urges. As a taboo phone sex escort, I offer a highly specialised sexy phone chat service with a very friendly and personalised approach. And a sexy phone call is the safest sex possible!
Who doesn't love dirty chat? I sure do. But I discovered during lockdown just how erotic it can be, especially taboo phone sex. Obviously, I wasn't seeing people in person, so I started offering phone sex and video chat as an alternative. And I haven't looked back. I decided to stick with it.
Why should you consider talking to a taboo phone sex escort over meeting in person? There are several benefits or advantages of phone sex chat or video chat.
Benefits of Phone Sex Over Seeing an Escort In-Person
Safe Sex
Need I say more?
The Fun of Imagination
Talking on the phone is a very tantalizing way to meet your sexual needs. In some ways, phone sex can be more exciting than meeting in person, as it leaves so much to the imagination — such a tease. Most of arousal happens in the imagination anyway. Just seeing, hearing, and/or thinking about things of an erotic nature can elevate desire and allow us to have orgasms. That's how we're able to masturbate to completion and why pornography is so popular: because imagination works.
No Guilt of Infidelity
If you're married or partnered, it spares you the guilt of infidelity. You can experience sex over the phone without risk to your health or your conscience. So it's the best of both worlds. Saying words over the phone isn't the same as having an affair, and really isn't much different from watching porn, except that it's personalised and engages you as a participant, rather than leaving you as an observer.
Explore Deep, Dark Secrets (See "Sex Therapy" Below)
Exeryone has deep, dark secret fantasies that they just can't talk about, not even with a spouse or partner. So many men have told me they've tried to talk to their wives about their desires, often with negative responses, ranging from lack of mutual interest to threats of divorce. When talking to a stranger, it's easier because there is no history or emotional baggage and nothing to lose.
Distance Is no Issue
If we are far apart, it's not practical to meet in person. On the other hand, no matter where you are, we can easily 'hook up' for a naughty phone call. I talk to men from all over the world! It's an exciting way to meet new people.
The Time Factor
Sometimes you just want a quick and hassle-free way to get your rocks off. If you've had a long day at work and want to relax before the commute or going home to family responsibilities, having some filthy phone sex could be just what the doctor ordered.
Cost
Let's face it, it's a lot cheaper than in-person meetings.
Ease of Access
If you have a disability or physical impairment and getting around is difficult for you, or you don't have a car, or you simply can't be bothered to deal with public transport, phone sex solves those problems.
Embarrassment
Shyness or feelings of shame about taboo desires can cause embarrassment and inhibit men from going to an escort. Phone sex helps people get over that hurdle. Especially with a friendly, motherly taboo phone sex escort such as myself. Being shy or embarrassed shouldn't prevent you from having sexual satisfaction. Speaking with an understanding, nurturing woman who won't judge you makes things a lot easier, especially over the phone.
Preserving the Fantasy
What I mean is, if there is a friend or family member you've been lusting over, being with and seeing someone else whilst talking about that desire can ruin the fantasy. Talking dirty on the phone, however, allows you to maintain the image of the person you are horny for. So, for instance, if you've had incestuous fantasies about your mother, aunt, sister, etc, you can envision her or look at her picture during our conversation. Not seeing my face will help keep your dreams intact.
These are just a few examples of the benefits of having sexy phone calls. I'm sure there are many others.
What Can We Talk About During Taboo Phone Sex?
In a word, anything. I am very open-minded and believe that human beings are very complex creatures, especially regarding our sexual natures and libidos. You can talk to me about whatever you like, and there's almost no topic off-limits. I can whisper sultry naughtiness in your ear while instructing you to touch yourself for me until you have a very happy ending.
We can get down and dirty about (almost) any topic you like. The following are some examples.
Incest Roleplay
If you have incest fantasies, that's ok. I don't judge. It's a more common fantasy than you might think. We can have as dirty a taboo conversation as you like. Incest roleplay is highly erotic. And it's harmless. Afterall, this is just a conversation between two adults. Types of scenarios I offer are mother-son and daddy-daughter.
Ageplay Fantasy
Just what it says on the tin. It's a contentious topic, but it's just fantasy, and it's just words spoken between two adults with complex imaginations. I find ageplay intriguing, for a variety of reasons.
'Straight' Sex
Our talks don't have to be taboo or incestuous. If you prefer 'straight' phone sex, I love that, too. Whether you want me to be your dirty slut or your loving girlfriend, we can have a very explicit, intimate time together.
Kinky Submission and Domination
Do you have an interest in exploring BDSM? Already tried it and want more? I have a lot of experience with this. You can take the lead as dominant or follow my lead as dominatrix. We can take a sensual approach or a strict and rough one. It's your choice.
Maybe you enjoy giving or receiving humiliation. I am open-minded about being verbally humiliated or 'abused' and being called names. Don't worry, I won't freak out. Actually, I think it's rather horny. I think many men love the fantasy of treating a woman like a brazen hussy or slut and talking really filthy to her, but would never treat their girlfriends that way. With me, you can safely act out these desires without risk of offending a woman or going to jail :).
I can dish out the humiliation, as well. Believe me.
Sex 'Therapy' or Confessional
Here's where it gets really deep. Do you need to talk to someone about some of your demons or dirty desires? As mentioned above, there might be aspects of your sexuality or desires you really want to explore, or don't understand, or have sublimated for years. Perhaps you just need to get things off your chest. We all have secrets and secret desires that we can't talk about with anybody else. That's where I come in. I can act as a sex therapist and provide you with a safe and nonjudgmental space to work things out.
When talking to me, an escort with a background in psychology and years of experience in roleplaying incest fantasies of mother, aunty, sister or daughter, you can take comfort in knowing that I won't judge you. And there will be no threats of divorce, haha. No matter how explicit, filthy, depraved, kinky, or taboo your fantasy is.
How Does Sexy Phone Chat / Taboo Phone Sex Work?
You'll call me for a brief introduction chat. If I'm available, we can either carry on at that time, or you can schedule a future phone sex call.
Prior to our sexy phone chat session, I'll have you send the payment, I'll confirm it, then I'll give you the go-ahead to call me. Ideally, you'll be relaxed and in a quiet space whilst we talk. It's best if you're lying comfortably, with your eyes closed. This helps you get into the right 'head space' and allows your imagination to flow freely. If you can't speak but only listen during our session, that's fine. I will do all the talking whilst you do all the wanking ; )
In order for me to be available to give you my utmost attention and a satisfying experience for you, it's best to allow at least an hour's notice for a call without video and at least 2 hours' notice for a video call. In either case, the more notice, the better. Thanks.
Regarding video calls, please note that I can talk to you on Whatsapp video, but only to show myself clothed. Whilst I do dress sexy, I won't show nudity in video sessions, for privacy reasons. However, you can get as nude and lewd as you like, honey. I do like it raunchy!
How Much Does Phone Sex Cost?
As far as I'm concerned, my taboo phone sex conversations are priceless! I'm sure you'll agree, once you've talked to me. In practical terms, though, these are my fees.