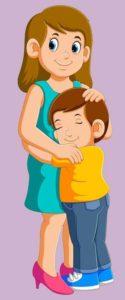 Notice: Having fantasies is one thing; acting on them is something different. If you have a compulsion to have actual s3x with real chi1dren, I urge you to seek counseling and get help so you don't cause harm! This website is that of an ageplay escort. It is about exploring PRETEND ageplay fantasies between consenting adults!
If your thoughts do not relate to actual min0rs, yet you still feel uncomfortable about your ageplay desires, that's a pretty normal reaction. But we are adults, so it is safe to go into this territory and explore fantasy ageplay fetish. If you have anxiety or concerns about your feelings and wish to talk about them in a non-roleplay context, read my kinky sexy therapy page.
Though ageplay fetish can be incorporated into my mother/son or daddy/daughter roleplay services, this ageplay fetish page is separate for those who aren't interested in the incest component of those fantasies.
Ageplay Escort Services
I still refer to myself as an escort, though I don't actually meet in person anymore. The reason I still call myself an escort is because I do offer a sexual service, albeit by phone. So I am still an ageplay escort, or sex worker.
Offering ageplay escort services means you can pretend to be an und3rage boy whilst I pretend to be a caretaker, neighbour, or family friend who exploits you sexually for my own pleasure. Or, I can be an und3rage girl that you exploit and get off with.
The age you wish to be, or wish for me to be, in your ageplay fantasy is up to you, and nothing will shock me; however, I have NO interest in (A d u l t B a b y) or (n a p p y) scenarios, sorry.
The Desire for Ageplay Fantasy and Fetish
Based on my experience as an escort and with men in general, I can tell you that the fantasy of being younger is quite a common fetish. Many men have a strong desire to play out the fantasy of being a little boy who or teenager who is exploited, seduced, or "molested" by a grown woman, especially a middle-aged siren who oozes lust. We grow up so fast and often don't get the nurturing we needed, or never got to experiment or follow up with curiosities or fantasies we had as children. Yes, Virginia, children, too, have sexual fantasies!
Many men have an ageplay fantasy and wish they had had the opportunity to have a sexual experience with an older woman when they were pre-pubescent, or younger. Being seduced into the realm of adult sexuality as a youngster by an alluring woman is a strong desire and thrilling fantasy for a lot of people.
I have encountered several men over the years who did have these sorts of experiences, and not one of them regretted it. In fact, every single one said it was the best thing that ever happened to them! They wish they could go back in time and experience it all over again. That's just the reality, despite what society may have to say about it.
I'm open-minded about people's desires. In no way do I condone real-life s3x with min0rs, but acting out the fantasy as an adult is erotic and orgasmic.
Little Boy Ageplay
Your desire for little boy ageplay may be the wish for a nurturing woman to lavish you with tender loving care. Sometimes you just need to be smothered with affectionate words and told what a good boy you are. Men often aren't allowed to be vulnerable or admit that they need some serious TLC.
That is something I can provide for you. You can be the centre of attention and get lots of love and encouragement. What is more comforting than the affections of a buxom and nurturing woman?
Or we can delve deeper into that adult sexual realm I mentioned. I can take you on a journey of initiation into erotic pleasures. We can explore all those thoughts and fantasies you've had about being a boy who is groomed and used by the naughty neighbour or teacher in his life. It will be our special secret.
Little Girl Ageplay
I also offer little girl ageplay in which I'm the young one. Many have a secret fantasy of seducing or "molesting" a young girl. Maybe you're the family friend who babysits me or I'm the friend of your teenage daughter who invites me for sleepovers. You can't help but notice me. You've often rubbed your cock thinking about doing forbidden things with me. Seeing me in my nighty or short skirt makes you crazy and you want nothing more than to get your hands, and other parts, on me.
The Emotional Safety of Ageplay Roleplay with an Ageplay Escort
As an adult, you can experience these fantasies with me in a safe, understanding and legal environment. Not to mention a sexually safe one, ie no diseases! We are adults with active imaginations and filthy, dirty fantasy lives that need attending to. I can help you explore any filthy, kinky, perverted fantasy you have and provide an incredibly satisfying sexual outlet for you. With me, you can talk about your desires in an emtionally safe context without judgment or risk of jeopardizing your relationship.
I know ageplay fetish roleplay, or pretending to seduce a little boy or little girl, is considered abhorrent by society at large, but it's just our imaginations running wild; we aren't hurting anyone. It's just a horny sexual outlet. And because my arousal is genuine, I can give you a super sexy and satisfying experience — even on the phone!