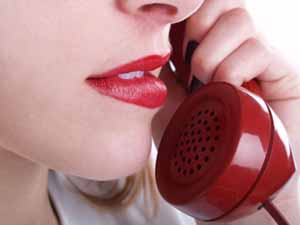 During lockdown, it is very frustrating, I know, to repress your sexual urges. I offer a highly specialised phone sex service with a very friendly and personalised approach. And a sexy phone chat is the safest sex possible!
We can get down and dirty about (almost) any topic you like. I can whisper sultry naughtiness in your ear while instructing you to touch yourself for me until you have a very happy ending.
Talking on the phone is a very safe and tantalizing way to meet your sexual needs during this time of social distancing. In some ways, phone sex can be more exciting than meeting in person, as it leaves so much to the imagination — such a tease.
Another advantage is that, if you're married, it spares you the guilt of infidelity. You can experience explicit, erotic, kinky phone sex without risk to your health or your conscience. So it's the best of both worlds
Keep reading for FAQ's.
What Can We Talk About?
In a word, anything. I am very open-minded and believe that human beings are very complex creatures, especially our sexual natures or constructs. You can talk to me about whatever you like, and there's almost no topic off-limits.
Incest Roleplay
If you have incest fantasies, that's ok. I don't judge. It's a more common fantasy than you might think. We can have as dirty a taboo conversation as you like. Afterall, this is just a conversation between two adults. Types of scenarios I offer are mother-son and daddy-daughter.
'Straight' Sex
Our talks don't have to be taboo or incestuous. If you prefer 'straight' sex chats, I love that, too. Whether you want me to be your dirty slut or your loving girlfriend, we can have a very explicit time together.
Kinky Submission and Domination
Do you have an interest in exploring BDSM? I have a lot of experience with this. You can take the lead or follow mine. We can take a sensual approach or a strict and rough one. It's your choice.
Sex 'Therapy' or Confessional
Do you need to talk about some of your demons or dirty desires? There might be aspects of your sexuality or desire you don't understand, or have sublimated for years. Perhaps you just want to get things off your chest. We all have secrets and secret desires that we can't talk about with anybody else. I can act as a sex therapist and provide you with a safe and nonjudgmental space to work things out.
How Does Sexy Phone Chat / Phone Sex Work?
You'll call me for a brief introduction chat. If I'm available, we can either carry on at that time, or you can schedule a future phone sex call.
Prior to our session, I'll have you send the payment, I'll confirm it, then I'll give you the go-ahead to call me. Ideally, you'll be relaxed and in a quiet space while we talk. It's best if you're lying comfortably, with your eyes closed. This helps you get into the right 'head space' and allows your imagination to flow freely. If you can't speak but only listen during our session, that's fine. I will do all the talking whilst you do all the wanking ; )
In order for me to be available to give you my utmost attention and a satisfying experience for you, it's best to allow at least an hour's notice for a call without video and at least 2 hours' notice for a video call. In either case, the more notice, the better. Thanks.
Regarding video calls, please note that I can talk to you on Whatsapp video, but only to show myself clothed. Whilst I do dress sexy, I won't show nudity in video sessions, for privacy reasons. However, you can get as nude and lewd as you like : )
How Much Does Phone Sex Cost?
As far as I'm concerned, my phone sex conversations are priceless! : ) I'm sure you'll agree, once you've talked to me. In practical terms, though, the following fees apply:
15 minutes: £30
30 minutes: £50
45 minutes: £70
60 minutes: £90
Fees are payable via pay pal or bank transfer. Because pay pal doesn't allow promotion on adult sites, I can't list the details here. Just phone me an we'll sort out the details.
When Can I Call You?
The bottom line is, you can phone me any time you like. If I'm available, I will answer. If I'm not, I won't.
Generally speaking, though, my phone is on from 12-7 Monday to Saturday. Sometimes it's on earlier/later. My phone is almost never on on Sundays. If you wish to schedule a talk outside those times, please give me 24 hours' notice.
If you phone and reach voicemail, just try again. I'm terrible about checking voice messages (I don't know why!), so it's probably best not to leave a voice message. But I do suggest you listen to my voice message, as I usually include important updates regarding my availability. If you wish, you can message me on Whatsapp requesting a call. I prefer Whatsapp to texting.
If you're interested, give me call, darling, on 07903625730 and let's get down to business with a naughty, sexy phone chat with a happy ending!