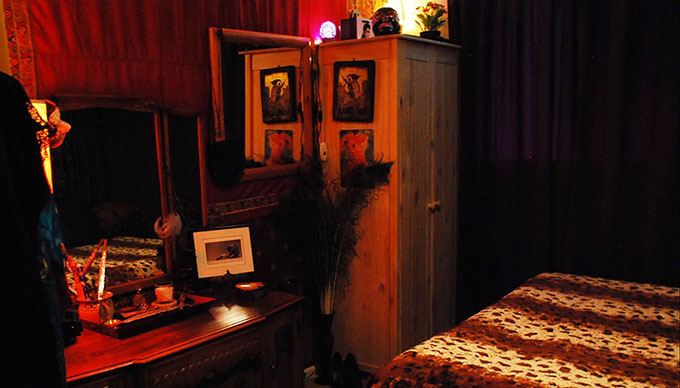 I offer London escort services to include sexual intercourse or not. I provide escorting service in a safe, sane and comfortable environment, without rushing. When you arrive, you'll have plenty of time to relax and have a cuppa while we talk and get to know each other a bit before we 'get busy'. Then you'll have time to take a shower (required). When providing London escort services, my philosophy is to have a relaxing, fun, sexy time. When you are here, you are my guest and it is your chance to escape the stresses of every day life and have a deeply satisfying experience with a mature escort.
NB: I'm very sorry, but I don't see black men (this does not include Asians). I know this sounds racist, but I definitely am not racist. My reasons for this are personal, and I apologise if it causes any offence. Thank you for respecting my boundaries.
Blowjob Specialist
I give killer blowjobs. Really. Read about how I give the best blowjob in London.
Fantasy Roleplay
Fantasy roleplay is one of my favourites. The psychology of sexuality fascinates me. And I just can't keep my mind inside the box of what's supposed to be "normal". It's so exciting and erotic to explore the taboo areas of our desires. It isn't about acting, it's about getting in touch with what we feel inside and want to experience. Being consenting adults, we can play out any raunchy sexual fantasy our hearts desire! These are a few that I especially enjoy:
Mother / Son Rolelay
Shocking! Disgraceful! And absolutely horny. Want to hear more? Read about why and how I enjoy mother son roleplay.
Daddy/girl Roleplay
More shock and awe! And volcanic orgasms. Daddy / girl roleplay is very titillating, don't you think?
Confessional
This isn't nun or religious fetish roleplay. It's having an ear to bend. Do you have dark secrets and dirty desires you need to get off your chest? Do you need reassurance that your desires are "normal", or do you need punishment for your transgressions? Perhaps you need to relieve the pressure of the guilt of an affair. I am not a practicing therapist, but I do have a background in psychology and counseling, and I am happy to listen and offer support or a bit of guidance if necessary. This is a safe place to talk about what's bothering you.
GFE / Pampering / Sanctuary
What exactly is GFE or Girlfriend Experience? I've heard many descriptions. Click the previous link to find out how I describe GFE.
No Sex Adult Companionship
When offering London escort services on a no sex basis, it is a hot and horny experience, but without intercourse or penetrative sex. This might seem a strange concept, but plenty of men seek female company and sexual relief, but are not necessarily looking for intercourse. Read more about my London adult companion service.
London Escort Services
Some Specific Activities I Enjoy (not a comprehensive list)
Sensual massage
Oral without (OWO)
Tit fucking
Submission and Obedience (me or you)
Breast Bondage
Nipple play
Biting (no blood though)
Dressing: smart, classy, lingerie, trashy slut, little girl
Spanking, paddling, flogging (on me or you)
Receiving Foot Worship
Face sitting/smothering (with knickers on)
Headlock with legs or arms (however, I don't do wrestling)
Things I Do Not Offer
CIM (cum in mouth)
Oral on me
Overnights (except as travel companion)
Anal play
Bondage (though I enjoy breast bondage)
Severe spanking, paddling, flogging on me
Wrestling
Being filmed or photographed