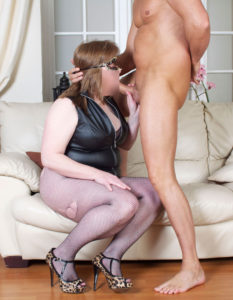 Having superior fellatio skills, I have been told by most of my visitors that I give the best blowjob in London! Certainly the best blowjob they've ever had. I love to pay special attention to your manhood, giving you sensations you've never felt before. I will worship your cock like the appendage of a god. I will bask in your masculinity and make you feel like the king of the jungle.
I like to start out very sensuously, licking and kissing the head, giving you just a hint of what's to come (cum?). You will find it very exciting as I sensually use my tongue to feel all around the head of your cock. Gradually, I will work my way down, taking it all in very slowly, using my tongue to apply pressure along the entire length. My tongue is very skilled and I have the suction power of a mini-Dyson.
Do you like deep-throat? My deep throat abilities will drive you wild. When you are hard, I will take your cock deep into my throat, gagging on the head until my eyes water. If my mascara isn't running, I haven't done a good enough job. I will take your lead on how to proceed. I will carry on slowly and softly, teasing you until you can't stand it anymore. Or perhaps you'd rather grab my hair, forcing your cock into my mouth. I will cater for your wishes so that you leave totally satisfied.
The key to my oral skills, and what makes me a blowjob specialist, is that I genuinely love to perform fellatio. I just love the sensation of a hard, throbbing cock in my mouth and down my throat. Nothing makes me feel more like a woman than worshipping your manhood with my mouth.
NB: I do offer oral without a condom, but you cannot cum in my mouth or on my face. You can, however, cum on my breasts or my bottom.
There is no doubt you will be highly satisfied with my cock-sucking abilities! Wouldn't you like to come and experience the best blowjob in London?